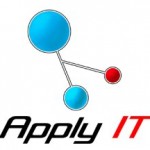 Established since the year of 2008 in Malaysia, Apply IT is founded by a group of dedicated people who is keen on helping small and medium businesses improve their production and operation efficiency at a budget. In this fast moving Information Technology Era, many businesses has evolved and traditional business is difficult to catch up with their competitors. This is where Apply IT steps in helping their clients to once again, join back into the competition and race to greater success.
However, moving into IT is not just about getting any software off-the-shelf and use; with Apply IT, we emphasize on uniqueness of software that makes you stand out from your competitors, it makes you better than them too. We're having years of experience on developing Custom Software Development to our clients of various industries ranging from Education, Aquaculture, Food & Beverage, Resort and et cetera. We work our way on developing the software that especially tailor-made that fits perfectly to your business. Do check out our Custom Software division for further information. Besides, we also provide one-stop website development services, e-commerce,  IT consultancy and IT outsource support services.
Please ring us, we would love to hear from you.
Email: grow@applyit.com.my